This is an exciting week on Justice Kitchen — not only is it the return of blog entries after a hot, lazy summer, but it's the first cocktail post, the first inter-blog interaction, and the first video post!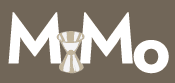 The occasion for all this is Mixology Monday, a monthly-ish cocktail party where bloggers create and share recipes based around a theme. This month's theme is "Brown, Bitter, and Stirred," the signature drink order (and blog title) of Lush Life Productions' Lindsey Johnson. I'd been a long-time admirer of Mixology Monday and figured this was a great one to start with. On Sunday afternoon, Andrew Rausch and I teamed up to work out a couple cocktails we could enter into this week's fun, and here's the result:
The Beretta Cocktail
1 1/2 oz mezcal (Del Maguey Vida)
1/3 oz Fernet Branca
3/4 tsp Amaro Meletti
3/4 oz sweet vermouth (Carpano Antica)
2 dashes orange bitters (Regan's)
Stir ingredients together in a pint glass with ice. Strain into a cocktail glass or coupe, then flame an orange peel on top. Garnish with said orange peel, and enjoy the smoky bitterness.
For this drink, we were inspired by the Smoking Gun cocktail, as seen in Imbibe Magazine a while back. The Smoking Gun has a badass name, two incredibly assertive base ingredients (scotch and Fernet Branca), and it is delicious.
We figured we'd amp up the Italian ingredients a bit (thus the Beretta name), and started off with a super strong mix of mezcal and Fernet that was a challenge to sip on. To sweeten things up a bit, we added in a bit of Amaro Meletti and Carpano Antica, which balance out the bitterness while still contributing rich flavors.
After that, the drink was missing a little something. Two dashes of Regan's orange bitters sweeten and brighten up the nose of the drink a bit, and the flamed orange peel really brings the orangey and smokey flavors together.
The resulting drink is pretty badass — it's smokey, orangey, and pungent on the nose, then aggressively bitter at first sip with the menthol of the Fernet and smokiness of the mezcal, followed by the milder chocolate and licorice notes from the vermouth and Amero Meletti, and finishing with a lingering bitterness that leaves you hankering for another sip.
It was close to 90 degrees in the room as we were mixing up the drinks, which was hardly an ideal environment for a digestif-ish bitterness bomb. Still good, but I could see this cocktail being very at home on a blustery fall evening after eating a hearty meal.
Still curious? Watch Andrew mix up the drink in Justice Kitchen's first VIDEO entry:
Justice Kitchen: Beretta Cocktail from Anthony Roldan on Vimeo.